Concept graphic design of businessman on growing arrow looking in future with spyglass against cityscape
The annual Ernst & Young Pulse of the Industry report shows that revenue is growing but much remains to be done in interoperability and an ecosystem that encourages collarboration.
Coinciding with the kickoff of the medical device industry's annual MedTech Conference on Monday in Boston, EY (Ernst & Young) published its devices industry report that shows that while the industry is growing, it is still yet to reach pre-2008 levels.
Globally, medtech industry revenue grew 7 percent but the chart below reflects that the industry is lagging the growth it saw before the Great Recession.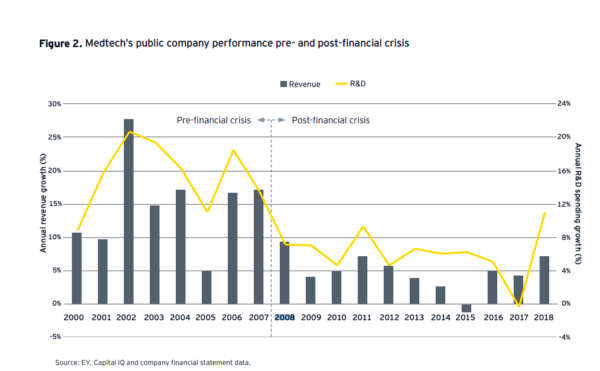 The chart above also demonstrates that R&D spending is rebounding, but the report pointed out that public companies are far more interested in using money to buy back shares and boost share price instead of dedicating them to research.
Want to publish your own articles on DistilINFO Publications?
Send us an email, we will get in touch with you.
When they are innovating, perhaps not surprisingly, AI is an area of focus. At least 33 algorithms won the regulatory nod since 2018.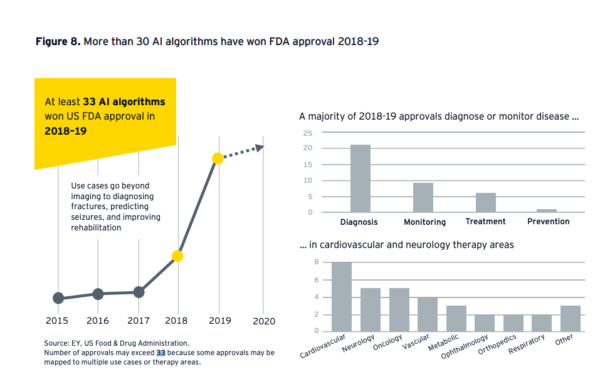 While innovations are occurring with respect to technology, business model innovation is not. The key to this is understanding how to work in an open ecosystem where data is shared. Here's more from the report:
In other words, data will be the key ingredient to industry success and collaboration will be the name of the game, which can be a heavy lift culturally for an industry steeped in proprietary technologies.
"Put simply, if medtech can't strengthen its connections with the other stakeholders, it can't extract real value from its connected devices," the report stated.
Date: October 03, 2019
Source: Medcity News